About Me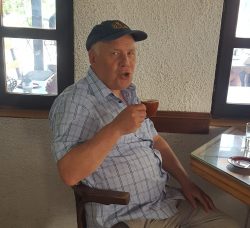 Paul Hacking previously Head of the Career Development Centre at Nottingham Trent University & chairman of the Fedora Careers & Employment Group (European Higher Education guidance body). He is now working as an amateur storyteller.
In his previous role he traveled all over Europe and sometimes further afield. This also included working on a two year project in Georgia (near the Black Sea), when he visited the country many times. It is during this time he acquired a love for travelling and discovering new customs, cultures and places. The other aspect of this site are various travel blogs. I hope you enjoy them and add your own comments on these anecdotes.
The mainly imaginary stories in his role as a storyteller also take us to different places. If you are a storyteller or enjoy listening to stories please share your favourites.
There is something special about discovering other cultures and customs. Our spirit is fed when we travel to new places, whether they be real or imagined. We can celebrate our own origins whilst also embracing other cultures.