A travel log of Georgia – near the Black Sea
February 6th, 2016
Do you serve milk?
This is the start of a two year working adventure with Georgia, exploring the food, culture, customs, places and people.
It is February 2013 and I have just arrived in Tbilisi, the capital of Georgia. No, not the state in the USA but the country that gained independence from Russia in 1991. It borders Armenia, Azerbaijan, Russia, Turkey and the waters of the Black Sea. To be honest, I had to look it up on the map to find out where it was when I was hired as an 'EU expert' to work with universities across Georgia. I have travelled from the UK via Istanbul to work with colleagues from Lithuania, Hungary and Georgia. At this my first meeting I am the only representative from the UK but luckily my colleagues from Lithuania and Hungary speak fluent English as do most of my hosts from Georgia.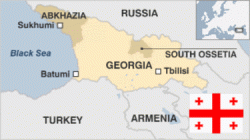 Tomorrow I have to give a presentation to representatives from a cross section  of universities in Georgia. The challenge I have is to explain a model framework on career management. The essential elements are self awareness, exploring career opportunities, career planning and career implementation. Believe me, it can be interesting and this is the reason I am here! We have a lively discussion in the evening on what we will cover and my aim is to keep it as simple as possible using lots of graphics but not everyone agrees. However we retire to our beds without full agreement as we are all very tired from travelling.
The small hotel we are staying in is about a ten minute walk from Tbilisi State University where our meeting is being held. For the first time I see a small part of Georgia in daylight. We have to walk along pathways that are not all fully made up and via an underpass so we can cross a main road running in front of the University. At the entrance and exit of the underpass are displayed lots of books for visitors to purchase. I am surprised to discover classical books, such as Shakespeare, written in English as well as Russian and Georgian. There are also little kiosks selling take-away food and it has a welcoming feel and a flavour of a country with its own very distinct culture and way of life.
The University is set in its own grounds in what seems to be near the 'modern' centre of Tbilisi . Busy traffic rushes by and I think this isn't somewhere I will want to ride my bike. In fact on a future visit my colleague Martin and I play the game of spot the cyclist! It seems like the opposite of a city like Copenhagen which is dominated by cyclists and where pedestrians have to be constantly on the lookout in case they are run over by a bike. The cyclist in Tbilisi however has to survive the road without a cycle lane and what seems like quite polluted air. Not surprisingly a cyclist is a very rare sight in Tbilisi.
We are told by our local colleagues not to venture too far out in the evening on our own. It is recommended we use local taxis. This is not a surprise to me because as part of obtaining insurance cover for travel from my employer I am required to watch a 'safety' video on topics such as how to avoid being kidnapped. It includes tips such as not to take the same route to work each day and not to use the ATM at the airport. However my experience of exploring 'Old Tbilisi' on foot is of feeling completely safe and I do not have any sense of danger. We do however catch a taxi, when darkness comes, to travel about two miles from the old part of the city to the newer part where we are staying.
The 'old' part of the city is both charming and a little ramshackle. It lies below the walls of the Nariqala Fortress overlooking the river Kura; also known as the Mtkvari river . There are lots of twisting alleys and hidden courtyards to explore leading to delightful Georgian restaurants.
Perhaps one of the reasons Tbilisi is sometimes seen as  unsafe at night is because a few years earlier a number of local gangsters had been rounded up and put in jail because of the high level of crime. Today however it seems a much more settled place and quite cosmopolitan. The main challenge for me is finding somewhere that will serve milk with my coffee or tea! There seems to be two words for milk in Georgian: 'rdze' and 'tsvela', but how do you pronounce it? Most Georgians drink their coffee black and when they do have it white they use powdered milk. Trying to explain that powdered milk with tea just doesn't taste good makes me seem very English.
The meeting at the university seems to go well with national TV covering the discussions. Fortunately for me most people are fluent in English. It often seems that those people who are aged mid forties, or younger, are fluent in English as it was a key part of their studies at school. However those who are older are often less fluent in English and were more likely to have studied Russian as a second language at school. I'm relieved when the meeting is over, although our discussions will continue tomorrow, and I am looking forward to tasting a Georgian meal.
Going out for dinner
Aleksandre Kvitashvili the Rector of Tbilisi State University has invited us to a local restaurant and we are to be entertained by singing and dancing. The restaurant overlooks the river Kura and when darkness falls and the city and the banks of the river are lit up it has an alluring quality. In a strange way it is as beautiful as the Mekong river as it wends it way through Luang Prabang in Laos, one of my favourite places in the world. It couldn't be more different but somehow the river compensates for some of the harshness of a city attempting to become western whilst still keeping its traditional buildings.
The Rector is the perfect host; witty and very generous with the Georgian wine. Georgia is very proud of its wine produce but I have never seen a bottle for sale in an English supermarket. I think there is a market opportunity here for someone, as the wine seems of good quality. They are also developing an industry in producing flavoured water and this is liberally supplied with our meal. The water is now exported to many countries.
The singing and dancing is traditional Georgian with the females dressed in flowing white dresses and the males in a uniform with accompanying sword and Cossack type hat. To me the male dancing seems like a Cossack dance with lots of bending  of knees and clapping and is displayed with verve and a sense of joy. But I have never seen live Cossack dancing to compare with it so I may be mistaken in my interpretation. The singing is a form of folk ballad and quite sad in its sentiment, although obviously I do not understand the words. It somehow tries to evoke  the trials and tribulations of life.
Food has appeared on our table and is displayed in a communal way with an array of dishes for all of us to dip into. It is a little like a giant tapas but this doesn't do it justice as new plates of food arrive all through the evening and there is such an abundance of choice. Clean plates regularly replace the one you have eaten from and I think I must have used at least six plates.
One of my favourite dishes is Lobio which is a red bean soup served in a small earthenware pot. It is delicious and a particularly good choice for vegetarians. Khachapuri is a traditional Georgian dish and is made up of cheese filled bread. It can often be found as a take-away on the streets of Georgia. Khinkali is also part of the Georgian staple diet and is a small dumpling stuffed with juicy beef or pork or onions and spices or mushrooms. I think there may be international equivalents as I once saw Rick Stein the famous chef demonstrating a similar dish in Shanghai.
Walnuts are part of so many Georgian dishes such as Bazha which is a delicious walnut sauce. A very popular sweet food is Churchkhela which looks like a candle stick. It is made by repeatedly dipping a long string of nuts into concentrated grapejuice and can be very sweet but makes a perfect gift to bring home as it keeps its flavour and freshness even after a long journey by air.
One of the enjoyable Georgian traditions to observe and to take part in is giving a toast. Traditionally this is a male preserve but this seems to be changing. When I first observed this at the meal hosted by the Rector of Tbilisi State University there was a table adjacent to us occupied by male diners only. One of the diners stood on his chair and offered a toast to his companions and everyone stood to endorse his toast by raising their glasses and standing up. It was a loud and boisterous celebration. However when we celebrate our project at the meal both males and females offer to give a toast. Perhaps my female companions are more liberated. The toast can also be more than just a few words and almost like a short story.
It was interesting to note that a few months after we had dined at the restaurant Aleksandre Kvitashvili resigned from his post. He had previously been Minister for Health in the Georgian government. The reason given for his resignation is the fact that he didn't have a PhD which had become a requirement for the post of Rector in universities.  A statement was made explaining that in future university Rectors will have to be appointed by the Prime Minister instead of the President. The impression given to a visitor to Georgia is that the link between universities and government is much stronger than it is in Western Europe as it isn't unusual for a Rector to have a 'political' background. There are examples in the UK such as Chris Patten who is Chancellor of Oxford University and had previously been a minister in a Conservative government and Governor of Hong Kong. However Chancellor is more of an honorary position.
Aleksandre became Health Minister in the Ukraine in December 2014. I found him to be more like an entrepreneur and businessman than an academic or at least as we perceive academics in the UK. In that sense he was quite refreshing in his style and with the right support team would have been very progressive and international in his outlook, if he had stayed on in his post. There would also seem to be a very strong allegiance between ex- Soviet Union states and in the case of Georgia, it has strong links with the USA. Aleksandre had been educated in New York and many of my academic colleagues in Georgia had also been educated in the USA. President George W Bush Junior also visited Georgia in May 2005 and partly in recognition of this the road from Tbilisi airport to the city is named George Bush Avenue.
It is reported that more than 80% of Georgians call themselves Orthodox, with the young among the most religious. Georgia's Orthodox church seems as influential and important today as it was before independence. Some of the conservatives within the church seem to promote beliefs more aligned with Vladimir Putin's Russia than the West (BBC report May 2015). However Georgia's liberal politicians say only alignment with Europe and the US will allow the country to overcome its Soviet past and survive as an independent nation, hence the strong alliance between countries such as Ukraine, Lithuania and Georgia. It probably also explains the appointment of Aleksandre Kvitashvili as Health Minister in the Ukraine.
I do like to be beside the seaside
I arrive at Batumi airport with my colleague David and we follow the flow of passengers and nearly find ourselves on another flight to a seaside town in Turkey. It seems most of our fellow passengers are Turkish and are using Batumi as a stopping off point to another destination. We have been travelling on Turkish Airlines from the UK for several hours, having stopped off at Istanbul to make the connecting flight to Batumi. This may be a good excuse for our lack of sense of direction and not knowing where the exit to the airport is.
We are picked up at the airport and driven a few miles along the coast to our hotel. On the way we pass by lots of new apartments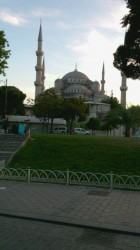 and high rise hotels which have recently been built, or in the process of being built, but many older buildings still remain.  In fact I soon discover that Batumi is rich in churches, many dating from the 19th century. There is a Synagogue which opened in 1904, a Muslim temple built in 1880, the Virgin Nativity Catholic Cathedral, the Armenian Apostolic church and St Nickolas Church, an Orthodox temple. These places of worship reflect the rich history of Batumi and the many cultures and religions alive today in the city but happily living alongside each other.
Batumi was originally the site of an ancient Greek colony and was later converted into a fortified Roman port. It was also briefly occupied by the Arabs. During 1901, sixteen years prior to the 'October Revolution', Joseph Stalin, the future leader of the Soviet Union, lived in the city organizing strikes. Unrest during the closing weeks of World War 1 led to the re-entry of Turkish forces in April 1918, followed by British forces, who stayed until July 1920. The influence of so many different cultures and countries on the life and history of Batumi is still evident today, not only through the inclusion of so many different forms of worship but also because of a sense of being a hub for different lifestyles. You can observe the diversity of ethnic foods served in the restaurants and also see a range of flags displayed on the tankers and ships entering the port.
Today it attracts many international investors which has resulted in the building of hotels such as the Sheraton and Radisson Blu. It also hosts the main constitutional court for Georgia. This is all in the shadow of the Caucasus Mountains which may account for the fact that it is also the wettest city in Georgia. However my experience is of very heavy but short showers which usually only last an hour or two.       

The hotel we are staying at is about twenty minutes walk from Batumi University or, to give it its full name, Batumi Shota Rustaveli State University. Shota Rustavali was a 12th century poet and considered one of the greatest contributors to Georgian literature. It seems to be quite common practice to give a name of a famous cultural figure to the title of a university. Before we start work we have to eat a substantial breakfast in a room situated at the top of the hotel with great surrounding views of the Black Sea, mountains and a city landscape of oddly assorted rooftops with lots of washing hanging from the sides of buildings.The proprietor insists we have wine with our breakfast. That isn't something I have a taste for but the local Georgians seem happy to indulge.
On the shore of the Black Sea
The walk to the university is delightful as it is partly along the shore of the Black Sea. The coastline has had a recent upgrade and many people are taking an early morning cycle ride, walk or exercising on the equipment provided on the cobbled beach. Most of the shore line is bordered by a wooden walk and cycle path which gives it a modern look and it is very safe for children and families to stroll along. Batumi is also famous for its dolphins and on one special day we see a pod of dolphins dancing in the sea only a few hundred yards from the shore. It seems very unusual for dolphins to be so close to land as the only time I have seen them previously is way out in the open sea.
Batumi State University is set in its own grounds overlooking the sea and at the entrance to the rear has a beautiful water fountain. It looks a relatively modern building from the outside but I am surprised to find that the toilets are still the type best described as 'a hole in the floor'. It reminds me of some French toilets about thirty years or so ago. This isn't the case in local restaurants and hotels which all seem to have modern western type toilet facilities.
Some of the local people describe to us the period of the Russo-Georgian war which was an armed conflict between Georgia, Russia and the Russian backed self proclaimed republics of South Ossetia and Abkazia. The war took place in August 2008 following a period of worsening relations between Russia and Georgia. It was regarded as the first European war of the 21st century and ended in October 2008 when Russia withdrew their troops. However there still seems to be sporadic fighting on the Russian/Georgian border.
A few of my colleagues attend a meeting in Zugdidi, which I am unable to go to, near the Russian border and say you could hear occasional gun shots in the distance.  At the time of the Russo-Georgian war electricity supplies were often restricted to a few hours per day and affected buildings such as Batumi State University. It seems strange to imagine such fighting happening in this region so recently as it is today very much a place for fun and recreation.
In the summer Batumi attracts tourists from all over Georgia and you can understand why. It has a warm climate with lots of activities for families to do and is clean. It is also by western standards very good value for money. In the evening we would often eat a meal of fresh fish with chips and salad plus a pot of 'lobio' and have two pints of beer, in all costing us no more than about five pounds sterling.  The beer is more like the lager we drink in western Europe. The cost of a room in a good standard hotel with en suite bathroom can sometimes be as cheap as £20-25 per night. Increasingly other nationalities are coming to holiday in the town. At breakfast one morning I meet a retired Israeli couple who are holidaying here for the week. Prior to independence from Russia Batumi had been a favourite holiday destination for Russians but this is not the case today.
On the return walk from the university usually in the late afternoon we sometimes stop to eat some freshly baked khachapuri at one of the many little cafes by the side of the road. However my attempt to acquire fresh milk with my tea and coffee is always in vain. It is not a problem in the hotel. 'Do you serve milk?' has become our little joke. The English 'fetish' of having milk with all their hot drinks is not comprehensible to most Georgians. Why didn't we try lemon in our tea? A good question!
Anyone for tennis?
I think, of all the places we visited in Georgia, Batumi is one of my favourites. The main reason why is tennis and the sea. I discover two of my colleagues Csaba and Kristijonas are keen tennis players. So whenever we travel, we take our tennis rackets with us. Csaba is from Budapest and Kristijonas comes from Vilnius. Kristijonas's father is a tennis coach and used to be one of the best players in Lithuania. Fortunately Kristijonas isn't quite as good at playing tennis as his dad. The setting of Batumi Tennis Club is a beautiful location just a few hundred yards from the sea and a little higher so the view of the Black sea is delightful. Sometimes we play singles and occasionally doubles and a local tennis enthusiast makes up the fourth member for the match.
On one occasion there is a heavy downpour so we have to seek an alternative indoor facility. The president of the Adjara tennis association finds us a willing fourth player and an excellent indoor tennis court located in a local hotel. This is typical of the generosity of our hosts who go to great trouble to make us feel at home.
We are often the only players on the courts with temperatures reaching the high 20s centigrade. Perhaps it is too hot for the locals but the impression is that these facilities are underused even though reasonably priced.
The person who arranges our indoor tennis facility has previously lived in Canada and has returned to set up his business as a property developer. Property development is definitely a good investment at this time and newly built flats can be bought for as little as the equivalent of £10,000. I visit Batumi four times and see the ongoing developments such as the high rise Hilton Hotel which has just been completed on my last visit and is now fully open for business. However the landscape is not dominated by high rise buildings and Batumi has managed to keep its local charm with a tree lined garden area by the sea attracting tourists and local working people as an area to relax and picnic.
My favourite building is the one remaining mosque temple. It is situated down a side street and almost hidden away not far from the port. My colleague David and I ask a friendly group of men who are sitting outside if we can look inside and they happily agree. We take off our shoes and look inside at a traditional Muslim temple. It is a little understated but still very striking with pink, green and blue patterns. Outside is Koranic calligraphy. It reminds me of the designs you see in Andalusia in places like Cordoba, Granada and Seville particularly where you see the juxtaposition of Christian and Muslim images. There is so much in the news today of religious conflicts but rarely do you see reported Muslims and Christians living in harmony. This is one such example.
One of the main attractions of the area is Batumi Botanical Gardens which are just a few miles out of town. To get there my colleague and I hop on a local minibus which is how local people mainly find their way around. We ignore the details of our travel insurance which tells us that using public transport will invalidate our cover. The public transport is, in fact, perfectly safe but a little crowded and sometimes we have to stand for most of the journey. The botanical gardens are situated on the coast and cover a vast area replicating the landscape and flowers, trees and bushes for each continent of the world. It is somewhere in fact you could spend several days exploring but we only have one afternoon and for part of the time sit in an open air cafe just enjoying the setting and watching the birds thriving in this oasis of a planned wilderness.
Up into the hills
Today is an opportunity to go up into the hills in the area surrounding Batumi. The first stop is a vineyard and the most obvious thing to strike me is the abundance of photographs showing Hillary Clinton who visited the vineyard in June 2012. At the time she was USA Secretary of State for Foreign Affairs. As I am writing this she is campaigning to be the Democratic candidate for the next USA Presidential Election. Links between Georgia and the USA would then become even stronger if she is successful.
Apparently around 500 of the world's 2000 grape varieties are Georgian and 38 of them are used in commercial production today. Georgian wine used to taste sweet to Western palates but today Georgia produces more refined wines using modern technologies. Tours and tastings are now an established part of the local tourist business and the wine tastes just as good to me as those I have tasted in vineyards on the outskirts of Sydney. I suspect the wine industry in Georgia will continue to flourish and the wine will become a wine of choice in Western Europe.
There is spectacular countryside in this region of Adjara with rolling hills, verdant valleys and cascading waterfalls. If you  are thinking of holidaying here there are some lovely log cabins you can hire for a remote wildlife retreat. Honey is also produced and is delicious and found for sale displayed on stalls set up by the side of the road. There is also lots of evidence of the investment that has been made into hydro power to enable the Georgian economy to work towards being self sufficient in energy supplies.
Going to the market
I love visiting markets when I'm travelling. Batumi market did not disappoint. It is found on the edge of the city, a vast area with a section selling mainly clothing and another part devoted to food.  It is obviously a meeting point for the local people regardless of income as many items are very cheap. My interest is in food, and I discover fruit and vegetables not for sale in my supermarket at home. I bought a big tub of honey, lots of dried herbs and some Churchkhela. I am not completely sure what the herbs are but did have a Georgian colleague to explain what is on offer.
The attraction of a market is to see how local people eat, drink and enjoy themselves. As part of this working project I visit Budapest twice and discover the Central indoor market next door to Corvinus University. The distinctive architectural feature is the roof with colourful Zsolnay tiles within an overall steel structure. Margaret Thatcher visited the market when she was the UK Prime Minister. The Central Market is the most visited tourist attraction in Budapest. It is very different from Batumi market with a more ordered feel but it is still a meeting place accompanied by the lovely smells of fresh food.
My favourite markets are in France. The French open air markets have a distinctive style with an array of colours displaying varied fresh vegetables, fruit and local cheeses and pickles. The vegetables look as if they have been recently just picked from the field rather than the manicured food often found in supermarkets.  Bordeaux market is typical It is mainly indoor, with shoppers spending ages chatting to fellow shoppers and often tasting the food on offer before purchasing.
In the UK there seems to have been a decline in open air markets. The one positive sign has been the resurgence of farmer markets where the growers sell the produce directly at the market rather than going through a middle man. Batumi market is similar as some of the sellers, such as the owners of the honey stall, are also the producers.
A statue to what?
We have just arrived at Tbilisi airport but our destination is not the capital. We have been picked up by a minibus and are heading for Telavi. It is a town in Georgia's eastern Kakleti region. We wend our way in the dark along roads in need of maintenance. The journey seems tortuous but after a few hours we arrive at our small hotel just a few hundred yards from Telavi State University. Our colleagues travelling from Lithuania have been delayed for twenty four hours. We therefore have time to explore the town and discover lots of fig trees and mini vineyards in the gardens of the local houses. Making your own wine is a popular hobby in this town. There are also a number of stray dogs trying to find food in refuse bins. We keep a respectful distance but they don't seem bothered by our presence. The impression is of a town rightly proud of its rural roots and customs.
There is  a statue in the centre of town to King Erekle II who lived from 1720-1798. In 1744 Nader, Shah of Persia, installed Prince Erekle II in Telavi as ruler of the Kakheti region. King Erekle II turned towards the Russians for protection against Ottoman and Persian attacks but in 1795, the Persian Shah, Agha Mohammed Khan, invaded the country and burnt the capital Tbilisi to the ground. Erekle however still holds an honoured place in local history.
In September 2013 a monument to Stalin was erected in Telavi to Stalin and inevitably caused some controversy. A statue to Stalin had previously been taken down in the middle of the night in June 2010 in Gori, his birth place just north of Tbilisi. Apparently subsequently a number of statues of Stalin have been erected across Georgia. It is a dilemma as obviously he is the most famous Georgian and a key part of Georgian history but most people do not want to be seen to be celebrating his life.
A similar debate has been held recently in the UK over a statue of Cecil Rhodes at Oxford University. The University has refused to respond to protesters to remove the statue even though he is associated with 'white supremacy' and Britain's colonial days. Obviously Cecil Rhodes is not as an important figure in history as Stalin but the same principles lie behind the arguments.
There is lovely countryside around Telavi and there are fascinating places to visit. Alaverdi Cathedral built by King Kvirike of Kakheti in the 11th century is one of the most attractive. It is 50m high and for a long time was the tallest church in Georgia. It is situated about 20 km north west of Telavi but it is well worth the journey to discover this majestic cathedral. Its striking features include classically proportioned rounded arches, a 16 windowed cupola and the 16th-century St George and dragon over the west door.
Tourists from outside Georgia are increasingly visiting this area. One of our fellow guests at the hotel we are staying at is a German homeopathic doctor with his Swiss partner. They are exploring the whole country of Georgia by car and share their experiences so far over a pint of beer sitting in the sun on the veranda of the hotel. They are very enthusiastic about their travel experience of Georgia and not daunted by strangely named places and not being able to speak Georgian.
Tbilisi revisited
We are sitting in a small cafe in Tbilisi relaxing over a few beers and some delicious local food. We have been facilitating some workshops for 3 days at Tbilisi State University. The delegates are teaching colleagues from a number of universities in Georgia and make our life easier by enthusiastically joining in the learning activities we have organised. However it is still very demanding and we are pleased the sessions are all over and we can forget about work. To our surprise a guitarist comes into the cafe and starts to play English pop songs from the 1960s and 70s. He plays lots of Beatles melodies but without singing so we sing along as we know most of the lyrics. The waitress then puts down her tray and starts to dance and sing, gliding between the table chairs and the whole cafe comes to life. Can you imagine this happening in cafe Nero or Starbucks? I don't think so!
It is a cold day but our hosts from the International Black Sea University in Tbilisi warm us up with an outing to Mtskheta. It is just over an hour's journey north of Tbilisi. Mtskheta has been Georgia's spiritual heart since Christianity was established about 327. It was capital of most of eastern Georgia from about 3rd century BC to the 5th century AD, when King Vakhtang Gorgasali moved his base to Tbilisi. Mtskheta Svetitskhoveli Cathedral is still the setting of important ceremonies of the Georgian Orthodox Church today. The Cathedral dates from the 11th century and has an elongated cross plan with  delightful stone carving outside and in.
There is also a museum and various other churches to explore but I wander around the craft and wine shops and stalls. I purchase some hand knitted wool leg stockings for my youngest daughter Jo. I'm not sure she will like them but think she will appreciate the bright colours they are knitted in. Before I leave I make a last minute purchase of a bottle of Georgian wine; something to savour when I'm back in England. Our hosts are the perfect guides and explain the historical significance of the centre whilst allowing us lots of time just to purchase a few mementos.
It is my fourth and final visit to Tbilisi as part of this project. We are being hosted by the University of Georgia; a privately funded university. Part of our time is devoted to meeting employers and representatives of the Chamber of Commerce. We are also assessing what we have achieved as part of the project. However the highlight for me is to play a game of tennis on their newly laid outdoor tennis court. Csaba and me are in fact the first players ever to play on the court. The surface is an unusual plastic type matting but I'm sure both members of staff and students will have many happy hours hitting tennis balls at each other. Our hosts could not be more helpful and welcoming and provide us with free balls whilst the odd bystander watches us play in the heat of the day.
It is the journey that matters
'It is the journey that matters, in the end' – Ernest Hemingway. When I was younger I was an impatient traveler and didn't want to stop off on my journey; the destination was all important. Sometimes there was good reason for this with restless young children sitting in the back of the car on a long journey. I later realised this was a mistake. The people we meet and the places we see on our journey can be just as interesting and fascinating as our destination.
The journey from the UK to Georgia can often last over 24 hours as there are no direct flights. It is necessary to fly via connecting airports such as Kiev, Minsk and Istanbul. I love Istanbul where east meets west and the cultural delights which come out of this exotic mix. So when it is necessary to stay overnight to make a connecting flight to Georgia this is a privilege rather than an inconvenience. The first time this happens I am unwell and therefore have to retire to bed. The second time however my colleague Martin and I catch a taxi to a restaurant overlooking the Bosporus River and the Blue Mosque. The roads outside the restaurant are chaotic with tourists from all over the world milling around. It is a balmy evening and I reminisce about my last visit to Istanbul over 15 years ago when I had a week to explore the city and islands connected to the Bosporus River. There is something special about the Blue Mosque with its elements of Byzantine Christian designs combined with traditional Islamic architecture.
In some ways Istanbul is like Georgia. In terms of its identity, is it part of Europe, Asia or is it Eurasia?
On another occasion when we have been waiting for our connecting flight at Istanbul Airport we find ourselves sitting next to a Swedish family moving home across continents. He is employed by an NGO (Non Government Organisation) and will be based in Pakistan while his wife and two young teenage children will be living in Singapore. I could understand why he didn't want his family to be based in Pakistan, because of the instability, but it is nevertheless a long way from Pakistan to Singapore. My son Ben has visited Pakistan and when he arrived at Karachi Airport he is asked to come aside to be interviewed as it is so unusual for a western looking male to come through the airport. After about 30 minutes he was released but it shows the tensions that are present in the country. I admire this family but it isn't something I could do. However they are very much up for the challenge and are use to living and working in what can seem an alien environment.
The flight from Istanbul to Batumi takes just over two hours so the journey is not too arduous. However it is still good to sit next to someone who is willing to chat. My companion is from Turkey and he runs a company that supplies and fits electrical equipment, such as hand driers,  in hotels. He complains that he is far too busy and the demand from the development of new hotels in Batumi is stretching the capacity of his firm to cope with this. To me it shows the scale of the property development happening in Batumi. It also highlights the investment Turkish companies are making in Georgia which sometimes can create tension. Georgia is keen to attract this foreign investment but do not want these external influences to dominate their culture.
Minsk airport is a strange airport in which to find yourself waiting over five hours for a connecting flight to the UK. You are greeted by staff dressed in military uniform and escorted to the transit lounge. It is the middle of the night and you are looking forward to a cup of coffee but only to be disappointed. There is only one cafe but this is closed as the member of staff is on her break. Despite this she is still standing behind the bar but refuses to serve until about 30 minutes later when they have had their rest. I buy a coffee and a slice of toast with cheese. I give the assistant one euro and my change is a wad of Belorussian  Rubles. I assume this is a mistake but no it would seem the Belarus Ruble is very much devalued against the euro.
Kiev airport is very modern and reminds me a little of Schiphol Airport in Amsterdam, although not as big. We are waiting for a connecting flight to London having flown here from Batumi. It is a strange feeling as we are only about 400 miles from the Crimea region where a battle between rebels and the Ukraine military is happening. There is no sense of war at the airport. Somehow we are able to block out what we don't want to know about even though it is on our 'doorstep'. A few months later, in July 2014, a Malaysian aeroplane is shot down whilst flying over Ukraine air space killing 238 passengers. The following day a number of our Georgian colleagues are due to fly from Georgia to London via Ukraine to attend a meeting at the University of Essex in Colchester, England. Some refuse to fly because of the perceived danger.
What do Georgians like about England?
A group of us are walking around Colchester down the back streets and past the castle. A number of Georgian colleagues have come over for a meeting at the university and some of them have joined me on this walk. Yes, the castle is interesting but what catches their eye is a flower bed beautifully laid out on the edge of the park. They immediately take out their cameras to take photographs. They are also fascinated by the period homes and how attractive the gardens are with their array of coloured roses. They remark on how well the houses are maintained. To them this seems to sum up 'little England'.
We are taking a trip on the train from Colchester to University College London. Most of our Georgian colleagues have visited London before but are very keen to explore the city again; there is so much to see and do. They are attracted by the English culture which is reflected in what they learn at school and university, such as the works of Shakespeare. It is a work visit but still good fun as we try to master the underground and explain to those staying on later how to find their way back. Georgians love talking and probably find the English a little restrained. If a man greets a woman he gives her a peck on each cheek whereas we English suffice with a handshake. Also it is not unusual for Georgian men to embrace each other but somehow the English are often embarrassed by such displays of affection.
We are staying at the George Hotel in Colchester. Part of the building dates back to 1494 and is first mentioned in the trade directories in the 1790s as The George and Dragon, commemorating St George's victory over the legendary dragon. It has a very traditional feel about it with many original features still on show and a roaring open fireplace. I join some of my Georgian colleagues for a traditional English cooked breakfast and they ask for all the trimmings; fried egg, sausage, bacon, bread, baked beans and  mushrooms. They seem to revel in the setting. In the evenings, kindly sponsored by the University of Essex, we eat out in some of the 'posh' restaurants in Colchester, some with an equally fascinating history. I did however notice that some of my Georgian friends were not so keen on 'game' and the rich puddings.
The adventure is over and I have learnt so much about Georgian culture, customs, places and people but have only seen a fraction of the country. I have been surprised by the many external influences in their history but somehow they have emerged as a confident and distinctive country with their own very special identity. The warmth of Georgian hospitality will stay with me for the rest of my life.
What do we have we in common? How about St George and the Dragon?
Zugdidi and Akhaltsike
Zugdidi is the main city of the north west region of Samegrelo towards the Russian border.  I didn't get the opportunity to visit this region but my colleague Csaba has taken some photographs of Zugdidi and Akhaltsike and I will let these speak for themselves without explanation.
Akhaltsike is the capital of the Samtskhe-Javakheti region of Georgia and means 'New Castle' in Georgian. In fact the castle that dominates the town dates from the 12th century.
'It is a magical place, Georgia, and it becomes dreamlike the moment you have left it. And the people are magic people. Until you have seen Georgia, you have seen nothing.' John Steinbeck
How perceptive John Steinbeck was!
Direct flights from UK to Georgia
Since I wrote this blog the Hungarian low cost airline Wizz Air has introduced direct flights from London-Luton Airport to Kutaisi in central Georgia. Prices can be as low as £40 one way. There are also direct flights from London Gatwick to the capital city Tbilisi with Georgian Airlines.
What was the project about?
If you want to learn more about the project we were working on see ICeGS presentation Nov 2014v8 (1)
This is a presentation Martin Pennington and I gave at the University of Derby.
Leave a comment