Mijas, Marbella & Malaga
January 8th, 2022
Have you completed your locator form?
It is the first time we have travelled abroad since Covid lockdown and two years since we stepped on a plane. We are nervous, not about flying but the baffling Covid regulations.
We arrive at the airport and discover we need to complete the locator form for the outward journey as well as the return journey. The Jet 2 staff are brilliant helping us to juggle various bits of information on our mobile phones. It is only when you are into completing the online form you discover what information is needed. Why is the name of the vaccine on our Covid pass different from the drop down choice? After seemingly repeating our names, date of birth and address several times we are given the all clear. The aeroplane is packed and there is an air of anticipation as our fellow passengers also seem to be relieved to have the freedom to travel abroad again.
Malaga here we come
We have flown to Malaga many times before but not under 'Covid restrictions'. Andalusia is a beautiful part of Spain with a wealth of culture, rolling mountainous countryside and nearly all year round sunshine. Our ultimate destination is Mijas a delightful village hidden in the hills but only a twenty minute drive from the sea. As we arrive we remember we have been here before for a day trip. The sun is shining and the drab, wet and cold English climate we have left seems a distant memory. The apartment we are staying in has a welcoming view of the the sea even though we are three or four miles away as the crow flies.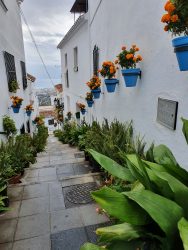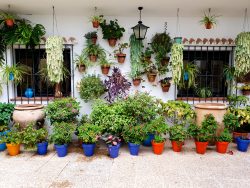 The local indoor market
We have chosen to stay in our own apartment booked through Airbnb. I love shopping at the local market wherever we are staying and luckily in Mijas this is only five minutes walk away.
There is still a chill in the air in the early morning sun but to be able to wear shorts in late October is somehow special. The walk is past whitewashed houses with traditional wall mounted street lamps. It is fun to shop and to try and work out what the various foods are called in Spanish. My favourite stall at the indoor market is the fruit and vegetables. The spring onions are three or four times the size you buy in the UK. Everything seems fresher than what you buy in the supermarket and the cost is half what we pay in England. The most challenging stall is the fish counter, the stall holder speaks no English and I have no idea what the various fishes are on display except the obvious such as salmon. There is a secret delight in having to speak to the stall holders in poor Spanish and using some gesticulating to explain how much food I want at what cost.
The winding streets of Mijas
I walk back to the apartment pulling my trolley full of fresh fruit and vegetables, eggs, bread, cheeses, milk and ham. Somehow the olives, lemons and satsumas in my bag seem so much more appetizing than food bought at a soulless  supermarket. I need the trolley as the winding cobbled streets are quite hilly. The locals bid me with a welcoming 'hola' as I pass them in the street. The adventure of having to discover a new place has begun.
Mijas is full of surprises
The central square in Mijas is the focus of the village with a variety of shops, cafes and restaurants surrounding the open space. Fortunately there is a lift to take you down into the square as it is much lower than the area we are staying in.
Every Wednesday there is live flamenco dancing in the square which is free to watch and soon attracts an audience of both children and adults who tap their feet to the sound of what I would call 'Gipsy' music. Not unlike a lot of Eastern European music with the delightful strains of the violin. Just around the corner from where we are staying is the hidden surprise of a  bull ring fortunately no longer in use but still fascinating to visit. You can sense the tension in the air as the audiences down the ages came to see the spectacle of the bull fighting. It was built in 1900 and stands on one of the highest points in the village on a rock next to the Church of Nuestra.
The centuries old hilltop chapel (known as the Ermita de la Virgen de la Pena) with a cave shrine and a lookout with a panoramic view of the coast is a must to visit. It is just off the main town square with a delightful café nearby where you can drink tea, coffee or wine and enjoy the delightful setting. 
The Folk museum is also well worth a visit to relive the rural past of the area. It is located in the old town hall and displays farming and fishing tools, oil mills and a wine cellar. How Andalusian houses looked many years ago are brilliantly captured by the creation of a typical bedroom and living room from centuries past. The typical 'tough' lifestyle of rural workers is also brilliantly explained through words, pictures and display of handicrafts. With an entrance fee of one euro it is outstanding value for money and will be enjoyed by both children and adults. 
Marbella
One of the great benefits of staying in Mijas as a visitor is it is well served by public transport. There are regular bus services to Fuengirola (only about 4 miles away) which acts as a transport hub to places such as Malaga and Marbella. There is also a direct bus to Torremolinus and the prices are incredibly good value at only a few Euros. So you don't need to hire a car or book a taxi!
Our first day trip is to Marbella and we catch a bus to Fuengirola and then change buses for our onward journey. The only problem is our bus breaks down half way between Fuengirola and Marbella. We wait for nearly an hour for a replacement bus to arrive and finally we are on our way.
What is interesting is that everyone is wearing a mask and there is no protest from the passengers at this mandatory requirement. It contrasts with my experience of travelling on buses in England where the wearing of masks is only observed by some of the passengers and no one dare challenge those who decline to wear a mask even though there will be genuine medical reasons in some cases such as those suffering from asthma. 
The old town area of Marbella
We have visited before but somehow missed seeing the old town area which is stylish and a delightful haven. The image of Marbella is often of opulence and a bit brash but this is not true of the old town. We also managed to eat a tapas meal for two made up of mainly fresh sea food for only 10 euros. This was from a restaurant with lovely views overlooking the sea. Perhaps there are less visitors this year because of Covid and therefore prices for food have been reduced to attract customers.
The seaside delights of Fuengirola
I had never previously heard of Fuengirola but it soon became our regular coffee morning outing. With temperatures in the mid 20's centigrade in early November it was just a lovely way to relax by the seafront and enjoy a cup of coffee.
A sense of community
 Fuengirola has a real sense of community and it would seem there are many UK citizens live here as well as visitors from all over Europe. The local theatre features English plays and a Rolling Stones tribute band Our waitress at our favourite café is from Argentina and has moved over with her parents. One morning I also start speaking to a customer on the adjacent table who is from Copenhagen and had previously owned an apartment here. He had also worked here for a bank and as part of his banking role regularly commuted to Gibraltar. He was holidaying with his wife for six weeks. It helped him survive the Danish winter. What depressed him about Denmark in the winter months was not so much the cold but the dark and short days without sunlight. Fuengirola was the perfect antidote. 
Sardines and chips
It is good to eat out and enjoy the local cuisine. We tried out the various tapas dishes in Marbella, a mixed paella of seafood and meat in a restaurant off the main square in Mijas and sardines and chips in Torremolinos and Fuengirola.  The sardines were always cooked on an outside barbeque and marinated in lemon juice and without fail tasted delicious. The paella was a little disappointing. I still remember staying in Torrox further down the coast past Malaga and eating paella nearly every day  in the main square for 2 euros! It was a number of years ago. The paella in Torrox was absolutely delicious particularly the seafood specialty. I think we were spoilt and anything afterwards did not compare favourably. 
Are Spanish train drivers always on strike?
We are on a very crowded train from Fuengirola to Malaga. About half the trains have been cancelled because of a strike by railway workers. This is not an ideal situation in the middle of a Covid pandemic. Strangely enough the last time we were in Spain nearly a year before the Covid outbreak we found ourselves stranded for several hours on the French/Spanish border half way between Girona and Perpignan. The Spanish driver simply walked off the train in protest to a change in railway timetables caused by a train strike in France. Personally I do not mind the inconvenience. It is preferable to living in a totalitarian state where strikes are banned and workers are constantly in fear of losing their jobs if they step out of line. 
The mystery of Malaga
Malaga is a bustling city with an old town and harbour setting. There are lots of interesting places to visit such as the Picasso museum and the main cathedral but I didn't find it that enticing.
I have visited before, many years ago, and probably found it more interesting then. Perhaps when they have finished the building works around the harbour it will seem more relaxing. However the musicians performing by the harbour front lift your spirits and bring a smile to your face. These talented artists play a variety of instruments from guitar to saxophone and most folk passing by stop to listen to their stylish renditions of popular songs. I suspect Malaga is more a young person's place but to me it seemed to try and mimic a retail experience you could see in many other European cities without providing anything distinctive. 
My first holiday abroad post Covid
So what was special about my first holiday abroad since the Covid Pandemic. To discover new places such as Torremolinos. I was pleasantly surprised as my perception of the place prior to visiting is it is cheap and cheerful but it is well worth at least a day visit. The steps down to the sea front from the main shopping centre are very steep but pass by some interesting independent shops and bars. The sea front is a delightful place to have a drink in the autumn  sunshine and in its own way just as appealing as Marbella. 
There is something that feeds the spirit when you can wander around in a t shirt and shorts in November and have a taste of a different culture. It is also lovely to be able to paddle in the sea and walk along the beach under clear blue skies. I would definitely revisit Fuengirola which is an understated town offering simple pleasures such as the sea and a clean and uncrowded beach. Covid has affected us all both mentally and physically. The Andalusian villages and towns can help to see life post Covid through fresh eyes and value simple pleasures we may have previously taken for granted. 
Leave a comment